The latest news about Anthony Reynolds are here and nowhere else...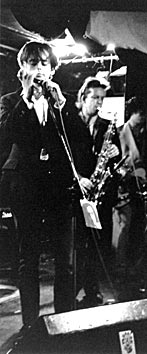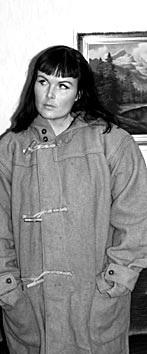 Lastyear's winner with the duffle coat.

END OF COMPETITION
The Lucky winner of the beautiful Pierre cardin Jacket is
John MARTINEZ OF LES LILAS, FRANCE.

The question was: 'Name all of the lead violinists Anthony has worked with'.
John's reply was: 'Audrey Morse, Lucy Wilkins, Ruth Gottlieb, John Viola, Fiona'
which was the closest.
John Viola actually played viola -not violin and you missed out Anne-Marie who played on Jack's tour of Spain at the end of 1998. But we wouldn't expect you to know THAT..

So well done Mr Martinez,we hope you find it an inspiring wear.
| | |
| --- | --- |
| No other definite news but hear is a picture of Anthony's horse, Eurydice: | |

COMPETITION

Last year we gave away the 'Jazz age' duffle coat.
The lucky winner, (www.sweetness-online.de), pictured- will never again be homeless, as this was more a Body than a piece of clothing.

This year, the prize is another piece of clothing:
The classic Black Pierre Cardin jacket, as worn by A.R. on the inner sleeve of 'Pioneer Soundtracks' and at countless early gigs. (Pictured). It was worn frequently all the way up to Seville in 1999 in fact.
Thereafter A.R. Bloomed from Boychild to man and became too....muscular..for this fine (small to medium) jacket to hang proper.
Now it can be yours.



The question:
Name every lead violinist Anthony has worked with since 1995 to date.
Answers to: contact@anthonyreynolds.net
Closing date is Jan 1st.

All the luck...


A.R. has completed 'Neu York' under the name of 'anthony' and it will be mastered this week in New York.
The album is set for a February release and it is strongly willed that Live shows will accompany it, including debut performances in the U.S.A.
Tracklisting is:
1) I Love my radio (on)
2) The Sad Streets
3) My Machavellian Girl
4) Love to loved (sweetness and Light)
5) Dear Melvyn
6) There are no Shadows anymore
7) If July Were A Kingdom
8) 2000 Miles (Boxing days Blues)
9) Theme from 'Smashed on love and Rum'
10) Drugs Are My Drugs
11) I Sit With The Smokers


Anthony's first post Jack release will be a preview from 'British Ballads'. The song is entitled 'The moon will never lie' and will feature on the forthcoming Secret crush records introductory compilation; 'Stamp collecting for beginners'.
This is available in November. It can be pre-ordered from:
www.secretcrushrecords.com

Confusing and perverse as it is, S.C. will NOT be releasing 'British Ballads' but WILL be releasing A.R.'s new alter-ego; 'anthony'.
Note lower case, please.
'anthony's' album 'Neu York' will be available via S.C. in the neu year. Initial pre-orders will come with original signed artwork by Anthony Reynolds AND by anthony.
Other stuff:
A.R. has been writing reviews.
Go here:
http://www.musicomh.com/gigs/david-sylvian.htm
for a review of David Sylvian's recent Manchester show.
Try here:
www.froggydelight.com
For an appreciation of 'Once upon a time in Mexico' and more
importantly, of Johnny Depp.(Scroll down for English version).
Interviews with A.R:
http://www.geocities.com/themindsconstruction/
and
www.artrat.co.uk is finally up. Featuring a rare, uncensored 'Moustache' era
photograph.
Finally, Italian fan Gianluca Maria Sorace
(www.tangomarziano.com/hollowblue) has put up a site (with audio)
dedicated to Jack's 1999 London 'Legend's' show:
http://www.gianlucamariasorace.com/temp/


Anthony has recorded demos for two new projects: A debut solo album to be released in his own name, entitled 'British Ballads' and a as yet untitled album with the French composer Franck Rousell.
Deals/Labels/Money are being sought for both.
Anthony is also recording a 9 song CD to be released via the new American label 'Secret crush records'
www.secretcrushrecords.com.


'Good Blonde' is a collaboration with the unfairly handsome and talented French Artist 'Toog':
http://www.moderniste.com/toog/.