There will be no beginning and there will be no end
A week in the life of a Jack promo tour - February 2002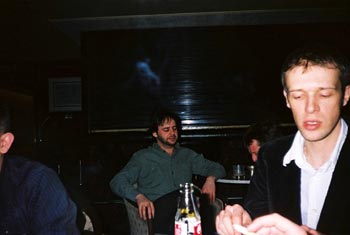 "You wake up to the sound of alarms..."
Tuesday February 19th 2002
Le Nouveau Casino, Paris

It's still night time, Julian and I are still drunk, and this coffee just ain't working. He's had one hour, I've somehow grabbed four hours...loaded up like pack horses we stumble downstairs and out onto the street, to the tube stop and underground to Waterloo to rendezvous with our accomplices on this five day, three gig, three capital city promo tour of Europe. Anthony's already in Paris, presumably tucked up and sleeping far away from the surreal lights and exchange students of the Eurostar terminal. So far so good, Matthew, Martin, John and Fiona have all made it too, along with our tour manager Carlos, and roadie Gab. Carlos is full of organisation, hustling us through the check-in and onto our carriage. "Keep it tight Matthew". Expletive response from Matthew, understandable, it's 7am. I bite my tongue, take my seat and try to sleep.
A whisky and two hours later we're in Gard Du Nord, no sign of the record company, and already wrecked. Carlos leads us through Parisian streets to our hotel pushed along by driving rain and a deep need of a hotel bed. Midday we're at last in our rooms, albeit briefly. After a meeting with Manu from Crepiscule, the French label, we grab a beer and Matthew leaves us to join Anthony for the first of many interviews and press junkets over the next few days.
At four pm we're inside the Nouveau Casino, assembling unfamiliar equipment and gearing up for sound check. We breath a collective sigh of relief at the sight of all the requested items - including the seemingly mythical Akai 3000xl sampler: just one problem, after three weeks of negotiating to get the right equipment, the samples are sitting on a disc back in the bunker in North London. Julian sheepishly tells the delightful stage manager Delphine that we won't, after all, require the Akai's services...no, honestly, we're total professionals.

Anthony joins us midway through sound check, and we eventually bash out a few loose tracks whilst an odd little man films us. A slight hiccup with a lack of English to European power converters leads the band to complete the check without Matthew. At least we all made it here - in the scheme of things it doesn't seem that much of disaster...

In between end of sound check and show time, we get fed and watered, and get ready to rock. Arriving back at the venue around 10ish to find it surprisingly full, the band head upstairs to our dressing room escape and wait for the anointed hour. Except it just doesn't come. The support band have decided to reinvent themselves as some kind of never-ending Stereolab tribute ensemble, and we're not impressed. Already half an hour later than we're billed to start they're still pounding out dodgy euro disco with some seriously bad taste in Ukulele solos...a song ends, our hopes lift, another song starts, we curse...we drink more...

Anthony makes it onstage at 11pm, does a beautiful reading of The End of the Way it's Always Been, unaccompanied, to a totally silent and reverent room, then Fiona joins him for a wracked and impromptu Gipsy Blues, then we're on. Striding out into the limelight, I feel good. We're back on stage after fifteen months away...let's make this a night to remember....and mostly it is. A few nervous moments, the sound of a new unit trying to gel in a ridiculously short time gives way to an awesome Nico's Children and a pounding Biography of The First Son. I break strings, jump around and totally enjoy myself. Matthew's smiles let me know he is too. Anthony perfects his drunk man dance and sings like the King possessed. I've missed him, but it's ok - he's back.

Meets and greets afterwards and Julian, Matthew, John and I head off into the Paris night with some new found friends and a seriously distorted view of the world. John gives his heart to Delphine, I give my heart to alcohol. I think we both may have got somewhere.
"And I tell you this faded glamour is a stupid art school idea"
Wednesday 20th February 2002
Le Rotunde @ Le Botonique, Brussels

I don't remember waking up, I can just about remember the smell of croissants and cigarette smoke, a bus journey and an incredibly comfortable and quick train journey across northern France, through southern Belgium and into Brussels Midi. We're accompanied by Stephane and Manu from the label, so little effort in regard to working out where the hell we are and what the hell we are doing is required. I have flashbacks to a roller coaster drive home with a sweet but quite possibly drunken French man named Nicholas to our hotel in the tiny hours of the morning...Nevertheless, we make it to our hotel, a spit away from tonight's venue, in the seemingly soulless city of Brussels...the venue looks stunning however - all bourgeois gardens and delicate fish ponds - and the hotel, compared to last night's effort, is sublime. Check-in is a pleasure. Our TV screens in the hotel rooms greet us with the cordial "Welcome Mr Jack", and the venue's café provides us with good Belgium beer. Why can't everything be this easy?

Matthew and Anthony are off in interviews again, Julian is succumbing to a migraine, and Martin, John and I munch our way through a huge buffet lunch. Sound check again takes an eternity - and in these sorts of surroundings it seems churlish to complain. But we still do.

Another great feed after sound check and a few more beers with some Expat friends, we gather backstage around 9.30pm. Matthew is missing, Carlos goes off to find him. Anthony charms a bottle of vodka out of the second delightful stage manager in two days, and Fiona, Julian and myself pour ourselves a large one for the performance. Tonight is a posh venue, so we make the effort - Fiona all spangles and high heels, Matthew full-on svelte corduroy suit, Julian shirt and tie, and the rest of us? Forgot me shirt, guv.

Anthony again heads out first, but this time is hamstrung in his attempted reading by a deaf lighting engineer who refuses to acknowledge his request for more light so he can at least partially focus on the words in front of him. Instead he picks up the acoustic and strums through a breathless rendition of Faster than Beauty. The crowd sighs and gasps...Fiona glides on, accompanying Gypsy Blues again, and the rest of us make and entrance...and what an entrance. Where the fuck is Matthew's pedal board? He's left standing there, mid stage, band on the end of a leash ready to be released, and no tools. Slow handclap starts. Anthony joins the audience and barracks him with a few choice terrace chants. Matthew responds. You really could not plan this kind of entertainment. The audience seem unfazed and eventually we begin.
The sound on stage is crystal clear - the sound check worth the waiting around. Fiona's violin soars and swoops through With You I'm Nothing, Martin's bass sounds more solid and confident than ever, and John does an appropriate double take on My World Versus Your World. Julian puts the soul in Sometimes and before we know it we're back on for the encore. Job done, a few hiccups, but then Jack just isn't Jack without the drama. And at least we're wearing a smile.

After the show everyone is out to get hammered. Matthew commandeers John's prize whisky, and gains a new friend in a toothless gentleman in the bar. I find myself back in the hotel bar with the record company and some journalists along with the last standing band members trying to communicate with a charming hack named Christophe. Julian tells me to give up. I do, leaving for my room to the strains of a spontaneous composition attempted on the piano by Matthew and Julian. This ain't rock and roll, this is easy listening...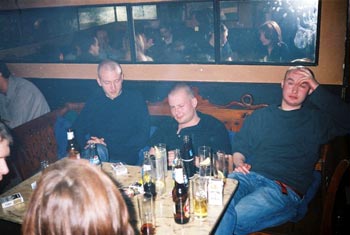 "All I want is my day in the sun"
Thursday 21st February 2002
Night off in Madrid

So we wake and struggle to our appointed taxis - flights awaiting at Brussels International airport. Madrid here we come...

Plane journey is an effort...I'm 10 minutes asleep when Matthew wakes me up from two rows back with a request for batteries....I'm not bloody Dixon's...can't get back to sleep...but things improve when Carlos, two rows in front of us, tries his charm on the lady next to him:
"So, you must be a model, huh?"
"no. I'm not"
"Well you should be. I can get you free tickets to see this great band playing tomorrow night in Madrid"....etc....

We had a vote before the tour at the city we'd most like to spend our night off in - unsurprisingly Madrid won hands down. I've had a great relationship with this city ever since I first sighted a barman just off the Puerto Del Sol bearing down on me not just with a vodka and lemon, but a whole fucking vodka bottle, a large glass, and a bottle of sweet sweet bitter limon. They seem to have the perfect existence, including midday sleeps, late nights and awesome bars....I am so happy to be back. The language still remains a mystery, but it never seems to matter.

We're chauffeured from the airport in a large people mover, and find ourselves staying just off Calle de Fuencarrol, 5 minutes stroll from Club Nasti, tomorrow night's venue, and a close distance to the centre of everything. First we find our feet, not envying Anthony's 8 hour marathon interview ordeal; John, Martin, Gab, Julian and I camping out in a local tapas bar where the value of money is truly recognised...then it's to bed for Siesta.

We wake around eight, and Fiona, Martin, John, Julian and yours truly are off into the Spanish night for Sangria, Senoritas and languid conversation. We end up in a black hole of a bar, close to the hotel, Anthony lost for words, Matthew tired and emotional, and the rest of us...well every picture tells a story. This is the site of our last brush with live performance, chased out of club Nasti by a coked-up promoter eager for blood... conversation bounces around, but we're too tired to notice. Bed. Again. And soon please, Bob. Where's DJT when you need him? Fiona has the right idea, turning up at 12 midday ...the next day...
"It's so weird to be back here"

Friday 22nd February
Club Nasti, Madrid

We wake up relatively early for Spanish time....1pm and we're out on the streets, soaking up the last of our free time before our 4.30pm sound check...I go shopping, Martin sleeps off the night before, Anthony frets about his friend and gloriously talented photographer, Helen, who's not been seen since 3am last night, Matthew gets fed by Gab, and Fiona tries to make sense of soberness...

We reconvene at Club Nasti...the headline band, Sing Sing, are still soundchecking. More beers across the road. We return just as the lead singer, Lisa, is exercising her considerable vocal gift. 10 minutes later it's our turn. Except that Sideshow Bob has hijacked this show. We get through 2 songs of the sound check when someone comments on the softness of the drums - not normally a problem given that a drummer's dynamics normally register somewhere between too loud and too bloody loud, but given John's sensitive touch it's a problem. We discover that none of the drum mics are working, cue 3 hours of faffing and muttering from Sideshow Bob, the sound engineer, and a classic quote from Matthew, quaffing beer backstage:
"I ain't coming out until those fucking drums are working"

It's gonna be a long wait.

At 9pm we're finished, and Anthony invites the whole touring party back to his room for a bonding half hour. We chat, listen to Elvis, drink large quantities of whisky and other not-too-sensible-substances-given-that-we're-due-on-stage-in-an-hour, but no one cares, tiredness has removed that burden.
Back at the club we take the stage, taut and ready to go. No acoustic intros. No spoken word setting. Just the seven of us, a band at last, and a whole heap of passion. After a technical hitch kindly provided by Sideshow Bob, we begin, and we Rock. With You I'm Nothing is a sonic slab of perfect disco, That's The way we Make It seems to send the audience reeling, Disco Café seethes and Nico's Children...well I was in heaven. The crowd cheered for more. We provided a blistering Biography, job done, journey over, a new dawn to look forward to.

Aftershow is two parts drunk and one thousand parts odd...we remain dressing room side for a couple of hours, entertaining a fan who's driven 600 miles from Malaga just to miss us play, painting mirrors with lipstick and tucking into our healthy rider...I try to escape but am cornered by Martin on a serious mission to find an absent part of his soul. We, in turn, are discovered across the road underground in a dive bar by Anthony, me on Martin's lap...I love Madrid, tonight has been a blast. Time for bed.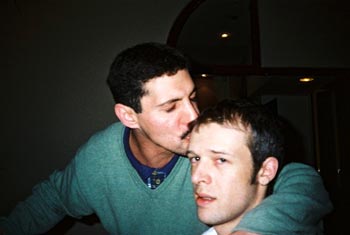 "This ain't no life for a Matador"
Saturday 23rd February 2002
Hometime.

And it ends like it began. A bunch of musicians and entourage hungover, unhealthy and seriously tired in a bright, stark place wrestling with too much luggage and a desperate need of a bed. We make it back home, somehow surviving the worst flight of my life, bad weather combined with turbulence and lots of screaming passengers almost ploughing us into the tarmac of Brussels airport...Heathrow is all weary smiles and the comfort of Terra Firma. Just the tube journey, our goodbyes and the knowledge that in a couple of weeks this all begins again.

Until then: Wondrous Sleep.

Personnel:

Anthony: Vocals
Matthew: Lead Guitar
Julian: Keys, backing vocals
Fiona: Violin
Martin: Bass
John: Drums
Me: Electric & Acoustic guitar, Backing vocals

Thanks to Carlos & Gab for getting us there
& Douglas Thorpe for the template.

Copyright Simon Phipps 2002